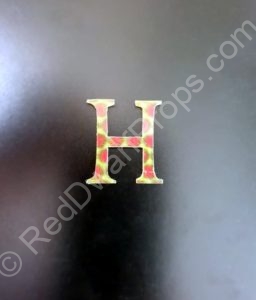 Rimmers H head hologram from Series V, acquired from the guy that used to make them for the BBC Visual Effects Department.

I've wanted one of these for so long now, it's great to be able to add this to my collection.

Rimmers H is undoubtedly one of the most recognisable costume artefacts of Red Dwarf.
---
History of Rimmers H

Rimmers H first made it's appearance is the early days of Red Dwarf in the form a thick silver H.
Later in Series III we see this change to a slimmer holographic patterned H.
In Series V we see the shape change again, this time taking on the shape of a Serif font H.
This shape would continue until the latter series' although the holographic pattern appears to change each Series.

Ever wondered how these were made, and from what?

I'm reliably told the prismatic plastic was taken from a jewellery box and cut out by hand on a electric fret saw.
---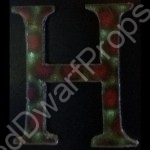 My Rimmers H version appears in Series V and in to Series VI, and is incredibly difficult to photograph. The photo at the top of the page was taken under bright lighting. This photo was taken under dimmer lighting. As you can see it is Green under these lighting conditions.


---
---