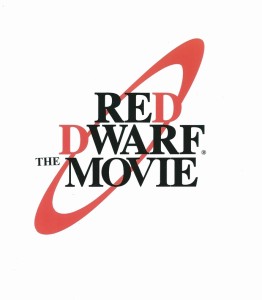 Red Dwarf Movie, was the name of a movie project due to continue as the sequel to Series VIII.

The movie itself was never finished, only ever reaching pre-production stage. Doug Naylor the co-creator searched for funding for many years, but never could quite secure the funding required.


With an alleged budget of £11m, the Red Dwarf Movie was scheduled to be shot in 2005.

It is rumoured that during pre-production; artwork, storyboards, some ship models and even a new Kryten mask were created.

Red Dwarf Movie Artwork

Consisting of 26 A4 pages, this folder of concept art was found in, of all places, a car-boot sale!
It has no official provenance, but looks by all accounts to be genuine.
The art has clearly been stored for years, and out of sunlight, as the images are perfect, with vibrant colours.

Typically the process of creating these is for the artist to sketch in pencil the outline. It would then be scanned into a PC or Mac, where colour and shading is then added. Then it is printed out as a finished item.

Each sheet is printed on A4 Epson photo paper. Each page in the corner has printed
© Red Dwarf Films Ltd 2001
And printed on the artwork
D Lavery 2001

D Lavery (Dominic Lavery) was a conceptual artist for the Red Dwarf Movie Resume

The collection contains photos of the cast in their familiar outfits, artwork of the Red Dwarf ship, Starbug and various interior shots.
There is also a ship called the Rogue Limpit. A creature called a Paradroid, and artwork of the cast in various attire.
Also a new look Version 2 Kryten (with a mop), and a character called Her Holiness, in various revealing outfits.

---
Edit: I recently reached out to Dominic for comment. This work I am told is still under NDA, so there was very little that could be divulged, however I was able to squeeze out the following factoids:
– Dominic confirmed that he did recognise his artwork, and that this set is mostly, if not wholly complete
– He also confirmed that the other artists work shown here is that of the story board artist (Jim Cornish)
– I was also corrected on my assumption of how these were created. They were in fact sketched directly into a PC using Photoshop or Painter
---
---
---
| | |
| --- | --- |
| | Red Dwarf Movie Concept Art |
| | |
---